Kind words from some of our clients and partners…
We always act promptly on advice from fire safety officers.
Thanks for doing the video Malcolm, we really appreciate it.
Warmans are a joy to work with and are as enthusiastically engaged with a £50k job as a £1million plus project. They have an uncanny knack of finding just the right contractor for the job in hand.
Warmans manages our block in North London. Warmans is well organised and I feel takes good care of us. His maintenance team are a particular benefit – as they solve problems quickly and at low cost.
Nothing short of exceptional
We engaged Warmans when our block was in distress. The existing agent had failed and Warmans inherited many outstanding problems. Service charge arrears, suppliers that had not been paid and a block in desperate need of maintenance and upkeep. In short the Warmans team's transformation of our block is nothing short of exceptional. Flats sell quicker, rent sooner, without voids – and most importantly it's a much nicer place to live.
Clean and efficiently managed
As Islington based letting agents, we have let several flats in blocks managed by the guys from Warmans. All the blocks are clean and efficiently managed making our task of letting much easier.
Recommended without hesitation
We are a development of 14 flats in a period building and have been using the services of Warmans for over 10 years. In that period Warmans have demonstrated a high level of competence in all areas of private residential management, offering the core service of the administration of service charge collection and building insurance and maintenance and as much or as little in terms of additional service as the client may require. We have found Warmans both flexible and also imaginative in responding to any number of issues which may arise in the course of private residential management. I would recommend them without hesitation.
They are a charming friendly company
We are long term tenants in a grade 2 listed converted school house managed by the Warmans team- our block only has 2 flats. Despite the fact that our home is in such a small unit and we are tenants , the care and love for our building is exceptional. They are a charming, friendly company to deal with.
We prepare and certify Service Charge Accounts for a number of managing agents. Warmans accounts are always well prepared and supported by invoices and I would not hesitate to recommend them.
Dealt with Warmans for over 20 years
As a small electrical contractor I have dealt with Warmans for over 20 years. They have been a loyal customer & a big supporter of local independent contractors. We hope to be a trusted supplier for many more years to come.
The fourth emergency service
I returned home late in the evening to find I had been burgled and my front door smashed in. Despite being out of hours Warmans responded and immediately arranged for their maintenance team to attend at 8am the following morning. The in house maintenance team are great in a crisis…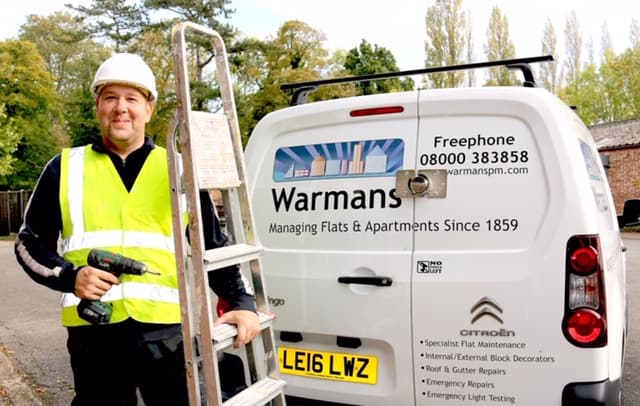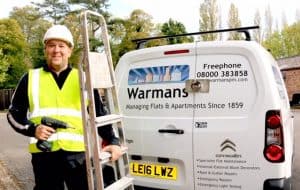 A pleasant well-managed community
We manage a block of flats which shares common facilities and grounds with a block managed by Warmans. We have had frequent contact with the Warmans team and have always found them to be friendly, efficient and professional. Whether it is dealing with CCTV footage, dumped garbage or stolen bikes, problems have been sorted in a quick and timely manner. This creates a pleasant well-managed community for all our residents.
To get started, give us a call on 08000 38 38 58 or send us a quick message and we'll call you back.
Simple
Address
Head Office: Tey House, Market Hill, Royston, Hertfordshire, SG8 9JN
London Office: 312 St Pauls Rd, Highbury Corner, Islington, N1 2LF
Email Us
warmans@1859Ltd.co.uk